My name is Carol Ruth Silver, and I have been a speaker for Law Enforcement Against Prohibition for many years. As soon as I heard about LEAP, I knew I wanted to get involved. Let me explain why.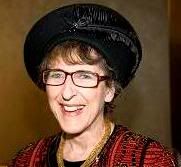 I am a person who cannot sit still when I see injustice. When I was 21 years old, I learned about the Freedom Rides. I became one of those who rode a bus in order to end segregation in interstate services. I was arrested in June 1961 after getting off a bus in Jackson, Mississippi, and walking into the waiting room marked "Colored." I joined 22 other young women in a cell in Hinds County built for four, so there were four bunks and the rest of us slept on the floor. Several of my fellow Freedom Riders barely made it out of a bus that was firebombed, while others were badly beaten. I hope you will learn more about those incredible times by watching a remarkable PBS documentary called "Freedom Riders".
All of us who were Freedom Riders were transformed by the experience. We had managed to bring about major change by saying, "Enough!" — and by acting on our beliefs. Later, I joined local government in San Francisco, where I continued to push for change. I then became the director of Prisoner Legal Services for the San Francisco Sheriff's Department, but I found myself having to bite my tongue talking to some prisoners about their nonviolent drug charges. It was difficult for me to discuss their financial or child custody problems when I could not look them in the eye and justify their being in jail.

When I heard about LEAP, I jumped on board. I knew that by organizing those who have been on the frontlines of the drug war like me, LEAP could play a major role in ending this policy disaster, which has correctly been called the "New Jim Crow." While only 13.5% of drug users are black, 37% of those arrested for drug violations are black, and African Americans comprise almost 60% of those in state prisons for drug felonies — and 81% in federal prisons for drug violations.
All my life I have fought discrimination, and I am proud to be a LEAP speaker. I urge you to stand up and do your part. LEAP gets a lot done on a small budget, but there are costs to meet — travel to conferences, the terrific staff, and more. LEAP needs your financial support, to bring about an end to the unjust drug war. I am asking you to join me and all the law enforcers of LEAP as we say "Enough!"
________________________________________________
Your donation puts LEAP speakers in front of audiences. To support LEAP's work by making a contribution, please click here.